Dear readers,
2022 marks a big change for VNG International, but 'continuity' is a key word too. After 33 years of relentless efforts for 'Building Better Futures, by strengthening democratic local government', Peter Knip is going to retire. On 9 May, he handed over his position as Director of VNG International to Pieter Jeroense, who has worked for several local governments in the Netherlands and for the Netherlands Ministry of Foreign Affairs. VNG International owes a lot to Peter Knip. As a tribute to him and as a first introduction to Pieter Jeroense, this Annual Update opens with a dialogue between them.
Peter: Democracy, globally, is under pressure.
On the one hand because of authoritarian leaders. But also within democracies there is a growing gap between citizens and politicians. Both developments are a reason for concern, but they also stress the relevance of our mission.
Pieter: And that is exactly what drives me: the firm belief that the work we do is key for stability in a country, for welfare, and for the interests of citizens. We don't need to cross that many borders, to see what is at stake. In the Netherlands we have a long history of decentralization and local government. But the essence of this whole process has not changed over time: central government defines the framework, and at the local level, local politicians together with their citizens decide how they will use the space within that framework to decide about their own living environment. To me, the importance of that dialogue with local communities is a universal principle.
Peter: In all those 33 years, I have always been motivated by our cooperation with people who choose to serve their communities and contribute to solving local problems. Of course, there are also people with less noble motives, but I have experienced that everywhere in the world really committed local leaders give all their energy to build better futures for and with their citizens.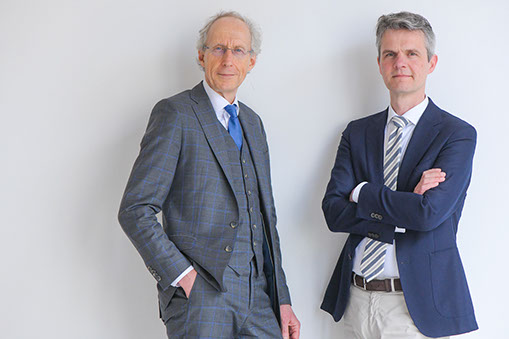 Peter Knip and Pieter Jeroense, outgoing and incoming Director of VNG International
Pieter: Yes, and whether it is in the Middle East, in Sub-Sahara Africa, in South East Europe, in Latin America or in Asia, their challenges are very much the same. Although the contexts will vary a lot, in the end local governments are the level of government closest to citizens, with no other government level in between. That creates opportunities and challenges at the same time.
Peter: It is the starting point for the practice-oriented hands-on approach that has always characterized VNG International's way of working.
I am happy to see that donors and other partners recognize this added value and that again in 2021-2022 we have won great new assignments. With especially the new 5 year's strategic partnership between VNG and the Netherlands Ministry of Foreign Affairs as a clear expression of trust in VNG International and of the recognition that local governments matter for the development of a country.
Pieter: I feel privileged to inherit this strong organization, with a dedicated, young and dynamic team in The Hague, a strong network of professional local staff in project offices, a group of highly qualified and experienced associated experts, and well established partnerships on the one hand with (local) governments and local government associations whose work we support, and on the other hand with donors who make it possible for us to do so. And last but not least: with our highly relevant mission.
MAY 2022